There are a lot of healthcare information sites in the world today. But there is an equivalent number of sites that do not provide accurate and updated information.
Introducing Interior Health - your one-time stop for all your health-related needs.
The new website must provide a reliable source of healthcare information that will help people connect to the resources they need. This will help to establish Interior Health as a professional, trustworthy, and relevant organization.
The new website must be built for the future, leveraging new technologies, functionality, and design concepts. This will provide much easier access to healthcare information, increase community engagement, and develop content management workflows to improve the efficiency of content creation, quality of information available on the site, and overall user experience. Additionally, this will help increase brand awareness.
Interior Health helps you manage your heath all in one place, with accurate and updated information for any health related question or need.
IH wanted to improve their website's user experience by making it more accessible. The old site was difficult to navigate, which made it hard for users to find the content they were looking for.
IH website faced a high bounce rate due to poor user interface

Impact on the site traffic due to poor navigation throughout the site

The content architecture was outdated to meet the modern end user's expectations

The site lacked better performance, resulting in poor SEO
IH wanted to improve the quality, availability, and dissemination of data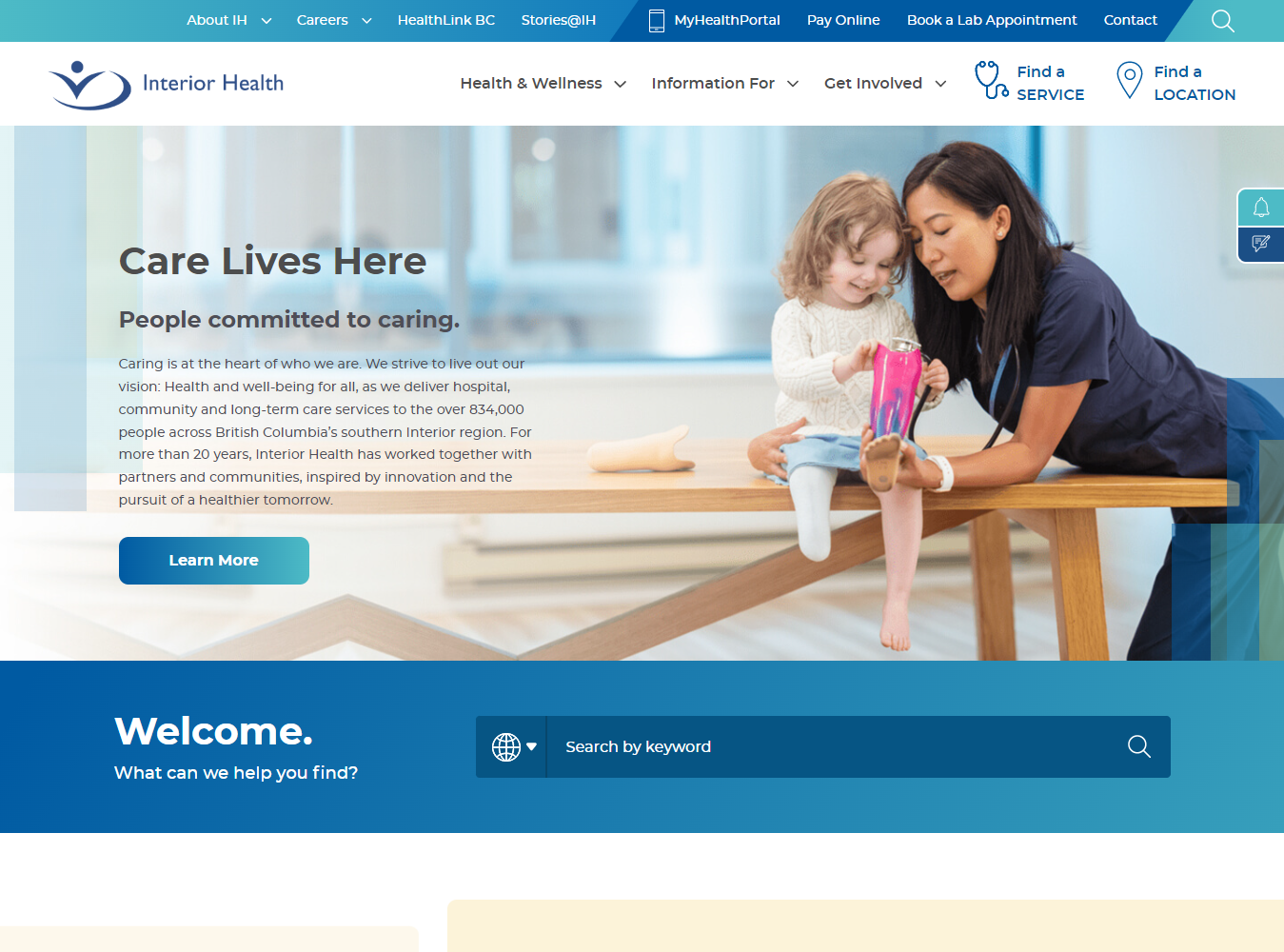 Our Approach
Workiy team helped IH to freshly build the site in Drupal 9 by migrating from share point CMS

We have extensively used our design capabilities to formulate a best-in-class user experience revamp using intuitive design elements with enhanced user-friendly search

Implemented XML site map to improve the visibility of the IH site in the search engine

Created pages by leveraging layout builder capabilities

Structured the metadata for the entire website

Implemented new content architecture to provide a holistic user experience

Workiy helped IH by ensuring that the business-critical functionalities healthcare stable

The search capabilities were enhanced by using advanced Solr search

Workiy was phenomenal in implementing proximity search. Geo-location feature was extensively used to detect end user's location and automatically show the nearby health care facilities and services

The IH site was completely CDA compliant

Multi-lingual feature for applicable elements

Facilities details, services, location, chain of hospital details, services data are handled, front-end display of content is managed

The entire site was compliant with the AAA accessibility standards

Workiy helped IH by providing a fully managed hosting service by implementing pantheon server
Customer Outcomes
Enable a low code platform to easily Configure and not Develop.

Empower non-technical users to create, edit and publish pages.

Enhance the content authoring experience.

Build an integrated digital experience platform by unifying varying content platforms such as Instagram, Google analytics, Google map, Solr search, Instagram feeds, etc.

The site was built with strict adherence to Drupal's security policy

Workiy expertise in WCAG/CDA guidelines ensured predictable quality

Clear, inclusive, and seamless user experience which achieved positive results in a usability test conducted by the IH team

Established re-usability of the content including blogs, news, alerts, and videos

Reduce maintenance costs and delivery timeline by increasing reusability and process automation.

Implement scalable and extendable architecture

Create a highly secured platform adhering to industry standards and data compliance
30 %
increase in paid subscription plan
Get in Touch
You are just one step away from reaching our expert team.
Workiy is a global company with more than 20 years of experience that provides end-to-end digital solutions, consulting and implementation services to our clients. Be it web or mobile digitalization, cloud transformation or resourcing. We assist our clients in utilizing their digital assets to optimally achieve their business goals and thereby turning their visions into a reality.
info@workiy.com
Get in touch