Undoubtedly, the CMS today has evolved into a system more flexible to meet the supply and demand chain, providing the clients with the biggest digital experiences in 20 years of Digital Evolution. In the baby years of this technology, content was connected only to one website. But with a headless system in place, we are given the access to store & manage contents on multiple channels on a personalized basis. Meaning, we can always go back & forth without disturbing the architecture of the front end or the back end.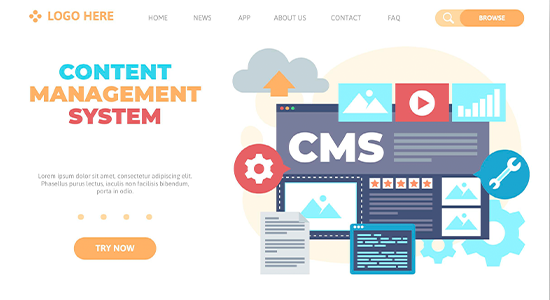 What is Acquia and how does this CMS help us transform a Business?
Acquia is an open -source content management system for optimizing all your digital experiences by providing the best of cloud platforms, powered by drupal.
Facts apart, this CMS is transformational. Acquia not just brings in value to business but becomes a valuable source to clients alike! A small walkthrough to picture the evolution so we understand better on what we might be getting into!
Traditional CMS
Allows the developer to store, manage & publish content on the backend.

Also, allows to do the same on a unifies front end.

Does not have a supportive set of APIs to help provide the same services across multiple channels.

User – friendly
Headless CMS
Effective decoupling on the front & back end, with no absolutely no hassle.

Flexible CMS with access to the content on multiple systems.

Increased opportunities of re-usability

Personalized system at work
Right example for a headless CMS – Drupal!
Traditional Drupal

Hybrid Headless Drupal

Fully Headless Drupal
Drupal is one of the most highly regarded, powerful, and mature CMS systems available today. Drupal is accessed by multiple business across various sectors globally because of it's robust features.
Why choose a headless CMS?
Why choose Acquia?
Personalised tools
Personalized mobile app means, exclusive information in detail for the users. Custom made Logo, custom made user interface & functions, provides a whole of lot of personal experience, thus having a strong brand image. 
Responsive Design
With the help of the mobile application, we are only a screen away from our target audience. 24/7 customer support, multiple updates, upgrades based on user preferences & understanding the clients better.
Simplified maintenance
To match up to the fast-paced world, we need to be informed well with the right information. This mobile application supports your target clients with data they need to know and is reliable with the data that we feed into it.
Flexible rendering
Mobile applications are not just digital platforms but a virtual experience centre that is nothing short of the shot we need at the target clients. Easy access, compatible, stream of special features & secure. This is the user experience we promise.
Content served through coupled & de-coupled front-end rendering layer 
If technology brought us one great advantage, it would be access to anything from anywhere in the world! With this Personal mobile application, we aspire to keep your business connected with every one of your clients & keep them on the go.
Cost Efficiency
At workiy, we keep in mind the best interest of our clients, financially and opportunistically. Every service we deploy, is based on the requirements, gains, & under the cut.
Moving forward, Acquia is not just a cloud platform but is an Enterprise that comes with a set of skilled solutions we might be looking for & also helps our business advance to the next step!
Acquia Cloud

- Strong cloud-native web hosting platform to build and manage Drupal-based websites.

Acquia Cloud Site Factory

- Provides digital teams with the fastest way to build, update, and centralize hundreds of Drupal websites at a global scale.

Acquia Lightning

- An open-source Drupal 8 distribution with preselected modules and configuration to help developers build better sites faster and run them on Acquia Cloud.

Acquia Digital Asset Manager

- Images, logos, videos, pdfs, etc,. all in one place and easy to update. Acquia DAM is a cloud-based digital asset management tool and central library for all of your Drupal sites.

Acquia Commerce Manager

- Acquia Commerce Manager provides the most secure and flexible platform for content-rich experiential commerce.
While we're at it, highlighting the benefits of Acquia CMS & why it's important to put this system into use for your business!
One place for all your content – Single Content repository
With a headless CMS, all content can be kept in one place, making it easy for control access, management, organization and optimization of content.
Streamlines Process
This system makes it easier to redesign websites, because you don't need to also redesign the back end — only the front end needs to be changed. Therefore, iterations as and when needed.
Flexible Work system
Developers are free to use their preferred tools or the most effective solutions for developing front-end experiences. For example, some developers may prefer to use a Java script framework over a cross-platform mobile application framework.
Redefined User-Experience
Acquia CMS enables & ensures development teams to make choices based on client's needs without being limited by the choices available within the specific front-end system unified with the back end.
Advanced Production
This System enables applications to move quickly through development stages because the front-end team no longer needs to wait for the back-end team to finish its work.
In Summary
The Acquia CMS system is introduced on Workiy to provide feature rich content management system & valuable services to our clients. We put our best foot forward when we assure you results & with our expert team at play, we promise you nothing less than what your business deserves.
Connect with our team today to discuss opportunities, possibilities & how you can acquire our services to make business the one!
Get in Touch
You are just one step away from reaching our expert team.
Workiy is a global company with more than 20 years of experience that provides end-to-end digital solutions, consulting and implementation services to our clients. Be it web or mobile digitalization, cloud transformation or resourcing. We assist our clients in utilizing their digital assets to optimally achieve their business goals and thereby turning their visions into a reality.
info@workiy.com
Get in touch