Customer relationship management (CRM) solutions used to be hosted on individual servers which became time-consuming and highly expensive. Such kind of CRMs were also  highly challenging to use. The solution to this issue was to build an affordable and cost-effective CRM software and provide it entirely online as a service. This was the core idea behind Salesforce. Moreover, Salesforce Being a cloud-based platform, it helps us find more prospects, provide greater level of service to our customers and close more and more deals!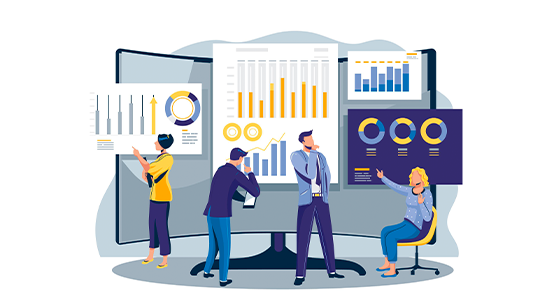 How does Salesforce work and how can you use it for marketing?
Workiy builds applications that bring together every team from sales, marketing, service to marketing around a single shared view of customer data that later gets updated in real time.
This leads us to construct a more connected environment and give you fine personalized experience, building stronger relationships. Having this view lets us resolve issues faster with hyper-personalized interactions and top-tier service on any device.
Marketing CRM
Allows us to greatly improve lead generation.

Advances customer acquisition.

Offers much more up-selling and also cross-selling opportunities.
Salesforce for sales?
Your

sales

team can spend less time on data entry and more time connecting with customers

tools can also help your sales reps and support team develop and implement a precise, repeatable sales process.

By connecting sales with marketing, service, and more, your opportunities increase.

your customer experiences feel more seamless and engaged.
Salesforce can also help us build connected brand journeys that adjust based on your interactions, and give you the most helpful personalized experience.
Personalize your journey now!
Why choose Salesforce?
Good Time Management
One of the best ways for a business to grow and thrive is good time management which is something that salesforce offers. Thanks to comprehensive customer information and useful planning resources, you have everything you need in one place. No more time wasted searching through logs and files for important info.
Increase Revenue
Tools offered by Salesforce will help us in taking over the administrative duties and more, this will ensure that you;ll have much more time on your hands to devote to the business which will lead to an increase in revenue in the long run.
Greater Customer Satisfaction
Salesforce knows you're needs and their relationship with you making sure you are more satisfied. Thanks to a highly efficient management system we can service you better by having quicker access to information, purchase history, accounts and preferences.
Simple Account Planning
Salesforce makes it simple to create plans for accounts. With all your information we need readily accessible, we'll have an easier time placing that info into the correct accounts, and then making plans for those accounts for optimal results for the customer.
Trusted Reporting
With so much data pouring into your business, it's easy to become lost. Salesforce keeps pertinent data organized and it helps you make sense of new data thanks to trustworthy reporting.
Ultimate Accessibility
Salesforce is accessible anywhere and everywhere you have access to the Internet. Whether you use your desktop, laptop, or smartphone, Salesforce can be reached thanks to its app.
The next subject is Salesforce Cloud Services. As it has diverse options we Ustilise Salesforce to assist us with marketing, analysis and sales!
Sales Cloud

- Sales Cloud grants you the status of the lead that'll be useful for sales executives. It is a CRM platform that let's you manage marketing and customer support aspects as well.

Maeketing Cloud

- Marketing cloud aloows you to run campaigns, messages, socail media, content management, manage emails, data analytics and so on. it is a key feature when running a business.

Analytic Cloud

-

This enables users to create a highly visually appealing dashboard of the available data. By doing so, you can get an in-depth understanding and analyze the trends, business, and more.

IoT Cloud

- When we need to handle an inter net of things (IoT) data we can make use of this IoT cloud. it gives us real time responses.

Salesforce App Cloud

- To develop customer appa that run on the salesforce platform we can us this services.

Salesforce Service Cloud -

This is a service platform for your organization's support team. It provides features like case tracking and social networking plug-in.
How about we take a look at some of the benefits that come along with using Saleforce CRM and why you've got to choose it.
Understand Customer Data:
Using the many tools offered by Salesforce we can usderstand customer data, identify their perceptions and interests. We can also locate and re-engage inactive customers and increase sales by tracking customer interaction.
Flexible Data Reporting and Analysis:
Salesforce allows flexible data reporting and analysis. Here, sales representatives can create their reports to check the accounts they haven't worked on for a while.
Customer Data:
If your looking for a way to customize different data then salesforce is the right option! It helps us enhance customer experience by performing real-time analytics.
Customer Service:
Salesforce provides excellent customer service from anywhere in the world. It helps in resolving customer issues faster and improves support agent response time. Salesforce allows you to unify email, social, phone, and chat support and helps manage every channel from one view.
In Summary
At Workiy, we assist businesses in drafting, designing, and developing comprehensive Salesforce-based enterprise solutions, helping you unleash your business's full potential by utilizing Salesforce technologies like Service Cloud, Sales Cloud, Marketing Cloud, Wave Analytics, and more! Deploy faster and get your sales team up to speed quickly enough to begin making the most of your Salesforce investment.
Connect with our team today to discuss opportunities, possibilities & how you can acquire our services to make business the one!
Get in Touch
You are just one step away from reaching our expert team.
Workiy is a global company with more than 20 years of experience that provides end-to-end digital solutions, consulting and implementation services to our clients. Be it web or mobile digitalization, cloud transformation or resourcing. We assist our clients in utilizing their digital assets to optimally achieve their business goals and thereby turning their visions into a reality.
info@workiy.com
Get in touch