Stepping into the 16th year of managing millions of data of different business across the globe. Acquia Cloud is the open-source cloud platform that every business needs!
Circa 2007, this cloud platform re-introduced the world to a new source of keeping business in the air and enabling multi-application usable platform. Simply put, a world where you upload a piece of content on one dashboard and it goes live on all your 500 platforms simultaneously. All of this at one click and with the utmost security to back you up!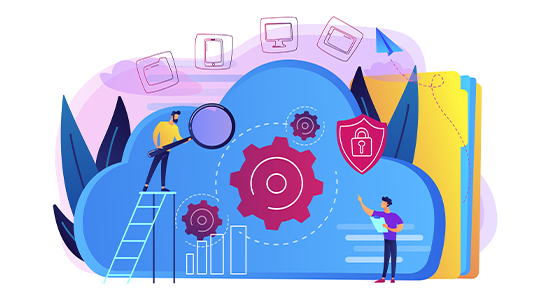 What is Acquia cloud?
Acquia is a software-as-a-service company co-founded by Dries Buytaert and Jay Batson to provide enterprise products, services, and technical support for the open-source platform powered by Drupal.
Acquia is an enterprise itself that isn't limited to just hosting but it takes away the expense of building and maintaining infrastructure and helps you focus on creating improved experiences for it's users.
Digital experiences are advanced with Acquia's Cloud platform, solely built to run applications better and cope up with agile operations. Workiy has partnered with Acquia to provide cloud-based services and hosts applications for improved IT infrastructure & visible scalability for every business alike. With an easy-to-use work flow tailor-made for your businesses, we enable a standardized operating system with Acquia Cloud
How is the experience different with Acquia Cloud?
Acquia focuses on tailor-made hosting for clients & it's accountable services are listed below. Every service is set to provide a business class experience to its users and now, rewriting the platform made way for faster dynamic auto-scaling, further improve site isolation, deliver 5x faster database throughput, and make the existing infrastructure more self-healing and skyrocketing deliverables.
Acquia Cloud

Acquia Cloud Site Factory

Acquia Drupal Cloud

Acquia Search

Acquia Edge

Acquia Lift

Acquia AgilOne

Acquia Content Hub

Acquia DAM

Acquia Commerce

Acquia Lightning

Acquia Dev Desktop

Acquia Cohesion

Mautic

Maestro
While this list isn't permanent as Acquia intends on adding more oriented services to this, Acquia's Drupal Cloud provides you with everything you need about hosting — and nothing one has to worry about. Most companies make active & effective savings with this Drupal powered platform and deliver projects faster and do improved work.
Now, for instance - managing multilingual regional websites does translate into major challenges from a personalization and customization standpoint. With Acquia Cloud platform, you can have your regional microsites up and running in no time. Brownie points too! You can address bigger issues and smaller issues alike, like new market-specific features to be implemented, without the fear of cluster expose. With a simple central dashboard at your business's disposal, adding, creating and delivering a new fully personalized digital experience gets dramatically streamlined. With zero risks & hassle- free process throughout.
Moving forward, Acquia is not just a cloud platform but is an Enterprise that comes with a set of skilled solutions we might be looking for & also helps our business advance to the next step! Key significances that one might be looking for in a cloud hosting platform,
Impressive Scalability
Meet growth, traffic, and performance demands with high availability hosting in seven global regions and a 99.99% SLA. Being fully managed by Acquia, you can relax and shift your focus from maintenance to innovation.
Minimized Security Risks or None
Minimize security incidents and practice proactive vulnerability blocking with our Drupal Steward Program. Enjoy extensive access management, platform security features, and a robust compliance portfolio that includes FedRAMP and more.
Automated Dev Workflows
Accelerate your development process with three pre-built environments, a drag-and-drop UI, a robust CLI, 200+ API endpoints, and cloud actions to automate deployment tasks.
Optimized Drupal Application Tools
Monitor your application and identify opportunities for improvement with built-in Drupal optimization tools. From application performance to developer tools, we have what you need to make your application better
While we're at it, highlighting the benefits of Acquia Cloud & why it's important to put this system into use for your business! We've also mentioned more than once about how Acquia is powered or the right word would be backed up by Drupal. That said, you can imagine what would the results be like when these two are combined together on an fairly equal basis, what you get is a powerful duo!
Acquia products are built for Drupal. Pairing Drupal with Acquia's cloud-based software to create a powerful digital experience platform, is the next best thing to a million dollar business and what the IT industry needs, to provide that digital rich experience to it's users.
In other words and to quote Acquia "Supercharge your digital experience with Drupal and Acquia"
In Summary
The Acquia Cloud platform is introduced on Workiy to provide feature rich content management system & valuable services to our clients. We put our best foot forward when we assure you results & with our expert team at play, we promise you nothing less than what your business deserves.
Connect with our team today to discuss opportunities, possibilities & how you can acquire our services to make business the one!
Get in Touch
You are just one step away from reaching our expert team.
Workiy is a global company with more than 20 years of experience that provides end-to-end digital solutions, consulting and implementation services to our clients. Be it web or mobile digitalization, cloud transformation or resourcing. We assist our clients in utilizing their digital assets to optimally achieve their business goals and thereby turning their visions into a reality.
info@workiy.com
Get in touch