The COVID pandemic has thrown life out of gear for most of the world. The Digital world is no exception. Organizations – irrespective of their sizes – have realized the value of going digital to seamlessly interact with their customers. As per a McKinsey report, most of the organizations across sectors have accelerated their digital transformation initiatives by at least 3 to 4 years. In this context, marketing functions within organizations need to understand how their existing digital solutions and MarTech stack work together in helping them achieve their business and marketing objectives.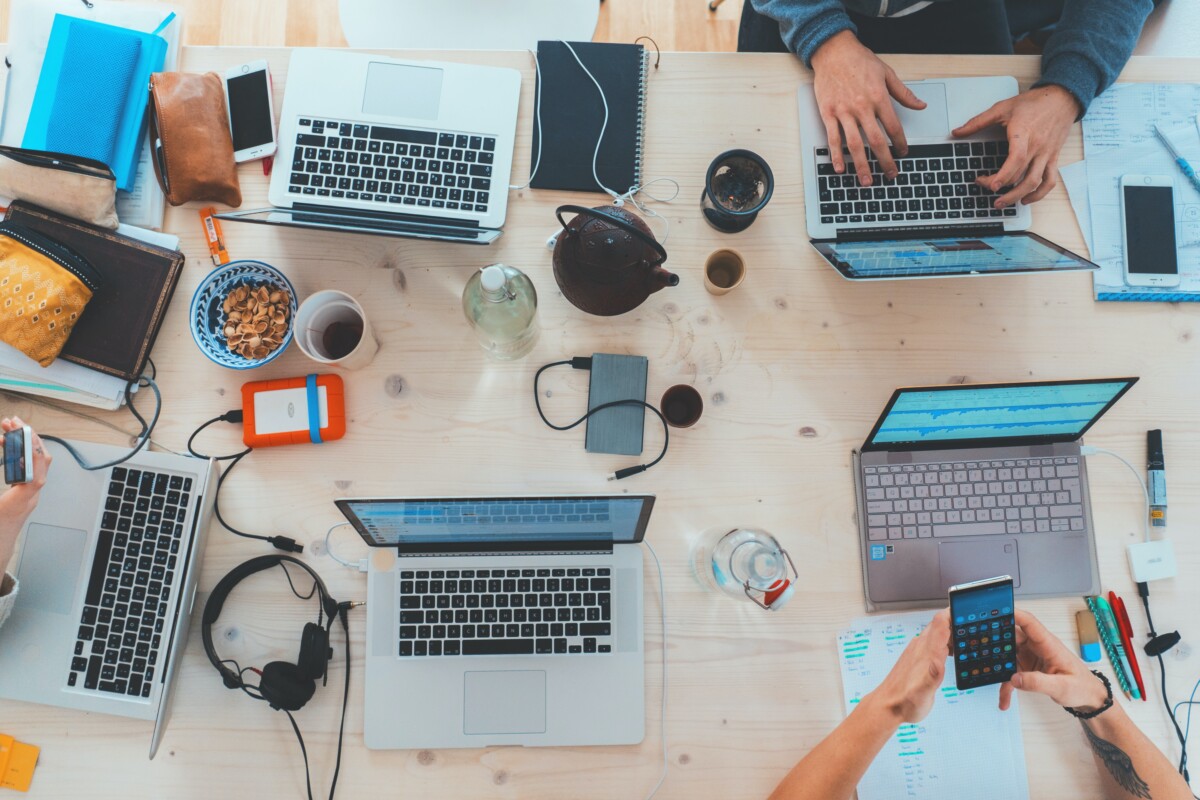 Drupal, being one of the most powerful open-source digital experience platforms, running more than 20+ years now with a stable, vibrant, and ever-growing community, has been an easy choice for many organizations when it comes to content management and integration solutions. With Drupal 9 (in fact Drupal 8 and above), the platform has evolved into a very powerful solution for digital marketers too enabling them with various aspects that would help them in their digital marketing initiatives. In this article, we will talk about the cool aspects of Drupal 9 that all digital marketers need to know. Let us dive right in!
So, what market trends are digital marketers really focused on?
In this section, we will briefly talk about some of the market trends that impact decision-making when it comes to a marketer's MarTech stack.
Brand loyalty and customer experience are closely tied to each other. Customers would be loyal to a brand that really understands them through their journey across various brand touch points.
Speed and availability have become more important than ever. Digital platforms that do not cater to these expectations will start losing users.
Digital channel proliferation has demanded that content needs to be accessible on existing and emerging channels.
Scalability is an important parameter that fuels future growth. Organization's MarTech stack should allow for the same.
Content strategy and governance, with channel and device proliferation, has led to different challenges and marketers need to adapt their content and governance strategies to the same.
Customers expect connected experiences across their user journeys whether they access the brand through a website, a chatbot, a mobile app, voice assistants or AR/VR solutions.
An organization's MarTech stack should enable them to cater to all the above expectations. This demands a core digital experience platform that can connect seamlessly with all other components – CRM, marketing automation, CDP, DMP, social channels, etc. – in their digital ecosystem.
How does Drupal 9 fit in seamlessly as the core Digital Experience Platform for Marketers?
So, with all said and done, how Drupal 9 is going to fit into an organization's MarTech ecosystem? What new aspects does it bring compared to its earlier versions and competition that makes Drupal 9 a better choice for marketers? Let us have a quick look.
Drupal 9 as an open-source enterprise CMS
Compared to the costly enterprise proprietary CMS solutions or the limited DIY platforms, Drupal brings the best of both worlds at a relatively lower total cost of ownership and better features as highlighted below.
Enterprise functionality, security and scalability like no other open-source platforms
Highly-customizable content governance models
Ease of use that allow lesser dependence on developers
Quicker time to market with many out-of-the-box modules and content management features available
Highly customizable to the need of an organization's specific use cases
Seamless integration with existing and emerging components/channels in an organization's MarTech stack
All the above and much more makes Drupal 9 an ideal enterprise-grade digital experience platform for organizations.
Content Authoring Experience
Compared to earlier versions, the Drupal 9 content authoring experience has been enhanced and simplified to a great extent enabling marketers to handle content much more seamlessly. The ever-evolving powerful WYSIWYG editor gives a lot of options to play with for marketers.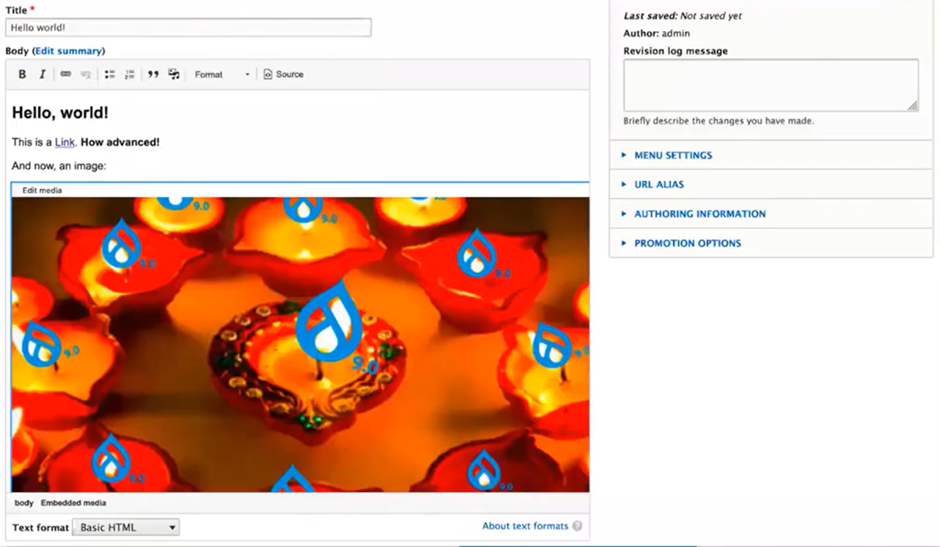 Layout Builder
The all-new layout builder allows marketers, content authors, and site builders to quickly build and launch various page layouts for the dynamic needs of marketing function with no to less reliance on developers. These are highly customizable and can be evolved to the expectations of marketers.
Workspaces
Workspaces in Drupal 9 allows marketers to build multiple full-site content staging environments within a live site. Marketers can work independently in these workspaces on the contents, blocks, taxonomy, and media without disturbing the live website for their marketing campaigns/initiatives. As and when they are comfortable with the outcome of any workspace, they can launch the same to the live site.
Richer Media Management
Drupal 9 media management modules, which is part of Drupal core, allow for seamless management of all media assets within the Drupal website. Addition, removal, updates, search, sort, and much more can be easily handled with the powerful, easy-to-use, customizable interface. Permissions for media assets leverage Drupal's permission system and can be easily configured. Beyond what Drupal 9 offers by default if marketers need complex media management features like very large media assets, complex workflows, rights or versioning requirements external Digital Asset Management tools can be seamlessly integrated with Drupal 9.
Multilingual
Building multilingual websites in Drupal has become all the easier with powerful multilingual modules available. As many languages as needed can be added. There is built-in support for more than 100 languages. Drupal front end and backend interface can be changed to the language of the user's choice. Users will have control to handle multi-lingual content types and even field levels.
Backward-compatible upgrades
Migrating from Drupal 8 to Drupal 9 is a very simple process which means the time-to-market and the cost of doing migration is relatively very low. Drupal community promises to keep this backward compatibility in place for the future Drupal versions as well (10, 11, and more). What this means to marketers is they can always keep their Drupal stack up-to-date with the latest and greatest that Drupal is about to offer.
Integrability – Headless or Decoupled Drupal
This is another evolving trend in the digital world. The channel proliferation has led to marketers demanding the core digital experience platform to seamlessly integrate with existing and emerging channels and components in their MarTech stack. Drupal 9 is an API-first CMS platform that allows for seamless integrations with any components in an organization's digital ecosystem. This means any new channels that the marketing function needs can also be quickly integrated with Drupal through its powerful APIs. Drupal can act as the core component in the DXP of an organization around which other components – social channels, chatbots, mobile apps, voice assistants, CRM, ERP, DMP – can be connected/built through the APIs.
Marketing Automation and Personalization
Irrespective of the organization's MarTech maturity, every organization will have some kind of marketing automation setup. Drupal 9 can integrate with any of the existing marketing automation tools seamlessly. There are some Drupal-specific marketing automation tools like Acquia Campaign Studio that can be leveraged as well.
On similar lines, marketers today also expect their DXPs to provide personalization capabilities so they can target their consumers better. Again, Drupal 9 can integrate with any of the existing personalization tools and there are Drupal-native personalization tools like Acquia Lift that can be leveraged.
In Summary
Drupal 9 is packed with exciting features and enablers that help marketers perform their day-to-day and strategic functions more effectively with reduced reliance on developers. With a marketer-focused futuristic platform strategy and a vibrant community, we have no doubt that Drupal is only going to grow from strength to strength in enabling marketers.
If you are considering Drupal 9 as a potential platform in your MarTech stack or if you are already using Drupal in your stack and looking for additional support or enhancements, we are here to support you.
Feel free to reach us at info@workiy.com or +1 (778) 798-0252 with any of your Drupal queries. We are excited and looking forward to supporting you in your Drupal journey!
Get in Touch
You are just one step away from reaching our expert team.
Workiy is a global company with more than 20 years of experience that provides end-to-end digital solutions, consulting and implementation services to our clients. Be it web or mobile digitalization, cloud transformation or resourcing. We assist our clients in utilizing their digital assets to optimally achieve their business goals and thereby turning their visions into a reality.
info@workiy.com
Get in touch